Here are all the cheats for GTA V on weapons, transport repairs, health and armor, invincibility, cars, helicopter, planes, motorcycles, bicycle, wanted level, super jump, gravity, weather, big smartphone and others…
How to enter?
Use "Cheat Console" (~) to enter the cheat-code. Re-enter to deactivate. Or use your smartphone (↑) to activate phone cheats by dial numbers.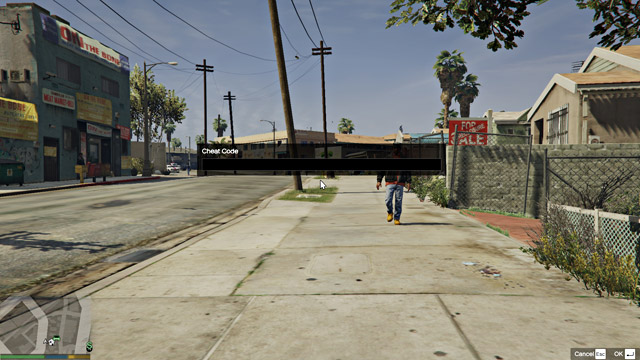 Player Cheats
TOOLUP or 1-999-8665-87 – Weapon Set (Gun)
TURTLE or 1-999-887-853 – Max Health & Armor & Car Repair
PAINKILLER – Invincibility (Works for 5 minutes before you need to re-enter the code)
LAWYERUP or 1-999-5299-3787 – Lower Wanted Level (Lose Cops)
FUGITIVE or 1-999-3844-8483 – Raise Wanted Level
HOTHANDS or 1-999-4684-2637 – Explosive Melee Attacks
HIGHEX or 1-999-444-439 – Explosive Ammo Rounds ("Bang Bang")
INCENDIARY or 1-999-462-363-4279 – Flaming Bullets
LIQUOR – Drunk Mode
HOPTOIT or 1-999-467-86-48 – Super Jump
DEADEYE or 1-999-332-3393 – Slow Motion Aim
CATCHME – Fast Run
GOTGILLS or 1-999-468-44557 – Fast Swim
SKYDIVE or 1-999-759-3483 – Get Parachute
POWERUP or 1-999-769-3787 – Recharge Ability
SKYFALL or 1-999-759-3255 – Skyfall (Freefall)
1-999-367-3767 – Get New Smartphone
Car Cheats:
COMET or 1-999-266-38 – Spawn Comet
RAPIDGT or 1-999-727-4348 – Spawn Rapid GT (Fastest Car)
VINEWOOD or 1-999-846-39663 – Spawn Limo
TRASHED or 1-999-872-433 – Spawn Trashmaster
HOLEIN1 or 1-999-4653-46-1 – Spawn Caddy
Motorcycles Cheats:
BANDIT or 1-999-226-348 – Spawn BMX
OFFROAD or 1-999-633-7629 – Spawn Sanchez (Dirt Bike)
ROCKET or 1-999-762-538 – Spawn PCJ
Planes & Helicopters Cheats:
FLYSPRAY or 1-999-359-77729 – Spawn Duster
BARNSTORM or 1-999-2276-78676 – Spawn Stunt Plane
BUZZOFF or 1-999-289-9633 – Spawn Buzzard Helicopter
Special Vehicle Cheats:
(PC, PS4, Xbox One only)
DEATHCAR or 1-999-3328-4227 – Spawn Duke O'Death
BUBBLES or 1-999-282-2537 – Spawn Kraken Sub/Go Go Monkey Blista
EXTINCT or 1-999-398-4628 – Spawn Dodo
Weather And Environment Cheats:
MAKEITRAIN or 1-999-625-348-7246 – Change Weather
SNOWDAY or 1-999-766-9329 – Slippery Cars (Drift)
SLOWMO or 1-999-756-966 – Slow Motion
FLOATER or 1-999-356-2837 – Moon Gravity
Symbol:
(2x), (3x) – double or triple button press.
→, ← – to the right or left on the cross of the gamepad.
Hints:
Instant money cheat, jetpack, boat, yacht, jet, jet ski, hydra, fighter jet, lamborghini, zombie, sticky bomb, flying car, monster truck, space docker, hulk, tow truck, no cops, lowrider, invisible, chopper, bugatti, futo, coquette, terbaru, pegassi vacca, rolls royce, fast car, atv, quad, adder, delorean, lifted trucks, police helicopter, submarine, police uniform, stock market, stripclub, blimp, never die, lengkap, ironman, superman, super punch, tsunami, website, never wanted, snow, sex, nude, shark, spaceship parts, missions, apocalypse, military base, cheat doesn't exist. The cheat-code for the tank in GTA 5 is also not found yet! However, the tank can be obtained using Script Hook V.
Unlimited (infinite) money and other tricks (teleport, oxygen, endurance, God mode for the machine) can be obtained with the help of trainers.
All the cheats works perfect in Story Mode (Single Player). Don't work in GTA: Online (Multiplayer).
There is no new gta5 cheats.